Here's my guide to the best ready-made inexpensive drapes or how to customize your own on a budget and still have them look unique and beautiful.
I have a personal theory about design that if you don't get something unique (custom or vintage) then it should be inexpensive.  Of course i shop for a living so thats easy for me to say, but the idea of buying a $900 coffee table that many other people have isn't terribly appealing to me.  I'd rather have a $300 one from West Elm until that amazing vintage find comes along.  Sometimes a big big store has a really great piece of furniture (like the Dakota Dining table from Crate and Barrel that i just bought for a client), don't get me wrong, but if i'm going to spend a chunk of money i want it to be on something i don't see that often.
So here are the good and inexpensive drapery options out there right now:
A lot of drapery can be $100 a panel and multiply that by at least 4-8 panels in a room and you've just spent  a lot of money on something that is 'Meh' and Mr. and Mrs. boring down the street also have.  So i say take that $400-$800 and splurge on a really amazing vintage piece of furniture, then buy inexpensive (but really good) drapes.  (stay tuned, i'll tell you at the bottom how to get custom for cheap).
So here are my favorite readymade drapes that aren't expensive and worth every penny:
1. Ikea.  Obvi.
'Aina' Grey linen, 2 panels for $49; that, my friends is a cheap drapery option. They can be hung with clips and rings, threaded like a pocket or hung with drapery hooks or hospital tracks.  I have them in my living room and they are soft and organic, but don't look cheap at all.  They let some light through while still providing privacy. You can hem them (with provided hemming tape) to any length.  They are just very good.
'Sanela' Navy blue (and dark green) velvet curtains.  These are $60 for a pair of panels and are thick enough to be blackout curtains. I don't like them threaded on the rod (shown above) and they'll look way more expensive and high end if you buy rings and clip them on.  But they look luxurious for not very much money. I used them here:
See the rest of the images from this Spanish Mod house, photos by Laure Joliet.
2. Potterybarn Kids or Teens.  It's not like these sites are secrets yet people think that PBkids and PBteens are for kids and teens but they are actually WAY better than the grown up Pottery barn in my opinion. More saturated colors and less suburban.
These blackout curtains are a very good price at $69 each. I know that's not terribly cheap but blackouts can be strangely expensive and this is a good price for a pretty color.
And in white:
I don't like crazy patterned drapes UNLESS they are so amazing that they are worthy of the attention that they command, but i do love a simple stripe like this that adds to the tailored look without being too busy. From PBkids for $89 for 84″.  HERE.
And from PBTeen i love this tassel fringed mother: Tassel Sheer for $69.99 for 84″
Ridiculously cute.  Still not super cheap, but not $100 a panel.
3. West Elm
I love these simple linen panels for $44 a panel.  Be mindful that these really don't have any light control or privacy, but they are very pretty.
Blackout Window Panel $49 for 92″, which is a great price, BUT they only come in this color. They should do white, for sure…..
4. CB2
I LOVE these french/belgiun Linen panels: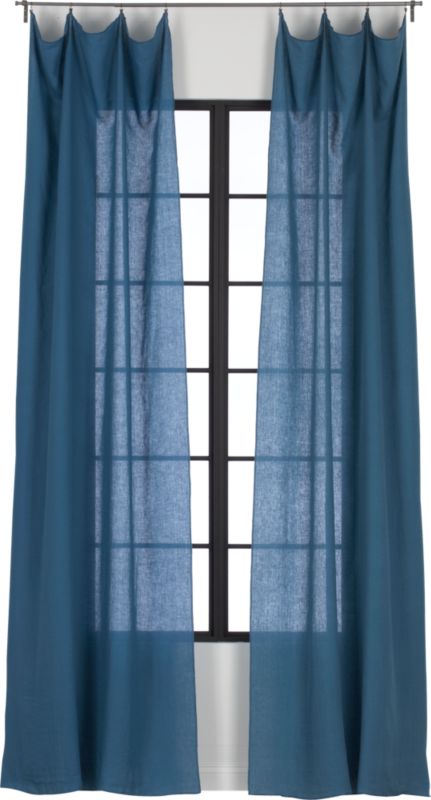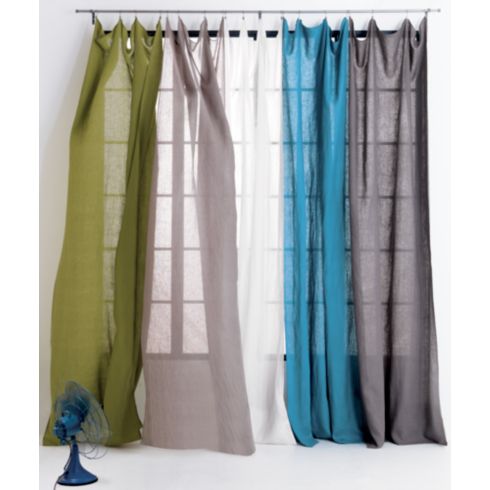 They are $59.99 which isn't a steal, but they look really high end and beautiful for that price tag.
I've ordered from other places, but these above are always good ones that I've consistently bought.
Now, what if you want to do custom? How much will you spend? Possibly a ton, but I've figured out how to keep the cost down after doing it so many times.
1. What kind of fabric do you buy:.  You don't need expensive linen for drapery, truly.  There isn't much wear and tear on it (like there might be a sofa) so you don't need anything too thick or high quality.  I order a lot from Gray Lines linen or go to your local fabric store and buy some $7-$10 a yard linen or cotton fabric.  I love linen a lot because the weave looks organic and soft, but there are a lot of cottons out there that are under $12 a yard that have fun patterns that will be more 'you', less 'everybody and their dog'.  Skip any ultra suede, anything with stretch, anything too dark unless you line it (because it will fade) or anything too shiny – no satins, polyesters or silks unless you really know what you are doing.  Linen and cotton velvet are my go-to's (yes just like reupholstering).
Only choose custom drapes if you are getting a color/pattern that you can't get ready-made.  In other words don't buy white linen, there are a ton of white linen drapery options out there.  Buy a pattern or buy a crazy hot pink linen – something that you can't find readymade. That is the only reason to spend money on customization – it has to actually look 100% unique to be worth it.
2. How to calculate yardage:  I usually assume that each panel is around 3 yards (108″) for a standard height window 80″ or so.   That gives you extra to have proper 4″-6″ hems on the top and bottom.  If you want pleating to add more volume and more of a traditional look you'll need WAY more fabric, double in fact, so skip it if you are on a budget.  I very rarely get it done because it just adds so much cost, but they can be VERY pretty.  But to cut cost? Skip the pleating.  
Just go for flat panels:
It's just a simple seam at the top and it looks more modern.  Plus pleating obviously costs a lot more in labor as well.
2.  Where to have them made: again, just like reupholstering, don't be scared to go to the less fancy places for cheaper prices.  In general they have as much experience and will do a decent job for a lot less money. Drapery is really easy to sew, so i'm much less worried about getting something shoddy than i am with rreupholstering.
In L.A. I go down to the fashion district into one of the drapery hardware places and they normally have a vendor they use for $40 a panel.  We used to have a place that did them for $15 a panel, i'm not kidding, which is crazy cheap. Then sadly for them (and us) they went out of business so now we spend more, but its still way cheaper than the high end places (which end up sourcing out to the cheap places anyway).
MY BIGGEST SECRET EVER:
If you aren't picky, or if you don't need something that looks super high end and you just want some pretty fabric panels sewn, then your new best friend is your drycleaner/tailor.  
Drapery is sooo easy to sew, its having the space that is difficult which is why i don't do it very often. But its just two double hems on the sides and 4-6″ hems on the top and bottom.  Straight seams. SOOOO easy. So normally your local dry-cleaner will do it for $20 a panel (maybe even less).
We recently did this for the lake house because our budget was getting so tight and the fabric we used was 15$/yard sheer white linen that was 100″ wide (which is double width).  It was for wall to wall windows (above) so i didn't want to buy readymade that was only 44″ wide or we would have had 6 or even 8 panels which look too busy and amateur, so instead we bought really wide fabric and had them sew two of those 100″ panels together, meaning that we had two 200″ panels.  The tailor (i think it was actually a shoe place/tailor) charged us $40 a panel = $80 to sew drapery for 16 feet of windows.  The fabric itself was $15 a yard and we needed 12 yards (four panels at 3 yards per panel) = $180.  The whole thing cost $260 total for those drapes.  Yes, they are sheer and i didn't have them sew the edges – i just left them raw which you can do with think hankerchief linen.  We didn't line them because they didn't need light control.
The point is, if someone can sew then they can sew drapes. Not fancy ones. Not ones with a lot of pleating, but they can sew four seams so therefore they can sew drapes.  Don't think you have to go somewhere fancy. Just go to your dry cleaner and get quotes.  If you want them lined then you can provide the with the lining (which you can get at your fabric store for 2$ a yard) and then yes, they'll charge more, but not that much more.
Drapery sources are often like wedding dress stores: they charge a price that is much beyond what the service actually should cost because its the expected price.  Very rarely is a wedding dress actually worth $4, 000. It's that price because its for a wedding, and because they know that its what you expect to pay.
Although….
Recently for a client i hired my first drapery company to actually come to the house with samples of fabrics and take measurements and give quotes.  i have to say that it was a total luxury.  They do all the work, from measuring to sewing to installation and yes, you get a higher price tag but if its a complicated job and you have a decent budget (and you are a very busy person) then its a very good option for you.
We did this because we wanted custom roman shades, which are WAY too complicated for just anyone to do.
So far I've been very happy with this service and if my clients can afford it, i will continue to use it because it does take a lot of time and stress away from me.   We used the www.shadeshoppe.com and they have been really great so far;  informative, friendly, with lots of options.  And the fact that i don't have to hire someone to install is worth every penny.  I install my own, but i'm not good enough to install clients' drapery hardware, so i always hire someone else.
I'll do another post on hardware soon and roman shades, too.  Am i forgetting anything?