A good leather sofa is like:
A bad leather sofa is like:
I so don't mean to pick on New Jersey especially after i spent last weekend in Atlantic City having a blast, but The Situation just has a brand that transcends most description.
So yes, leather sofas can go either way – either really good or really bad. So here are some tips to help you pick out the best leather sofas out there.
1. Pick leather with out a TON of shine.
Obviously a vintage leather sofa is going to solve this problem way faster than a new one, but vintage isn't always an option so go for leather that is soft and more matte, less shiny. Less 'patenty'. Less 'Snookie'.
This one is shiny, and while the shape is awesome and the sofa itself is great, the shine adds a element of cheese to it. It's like leather shoes – patent leather work sometimes for sure, but it can lead men into thinking you are hooking.
Instead go for leather like this:
Its more matte, more understated, softer, less in your face and therefore just looks more luxurious and more expensive. Keep it soft and supple, not slick and shiny.
2. Pick an interesting shape.
Either go for a super straight modern shape or a really low round soft shape. Confusing i know, but when they get to be oversized and round, but new and shiny they look so 80's and cheesy.
Look for modern and minimalist, with straight lines and sleek legs:
Buy this one HERE. $4980 Arne Vodder for Fritz Hansen. I'm obsessed with it. Somebody best snatch er up. (they do free shipping if that's interesting to you). And they are located in Portland if you want to see it in person.
But for those of you who can't afford that bad boy (like me) and live where these vintage finds are hard to, well, find, then this is a good new option. HERE.
Look for low, soft, 1970's and totally amazing:
This sofa is on sale at Amsterdam Modern HERE for over $6000 but it is truly begging to be lounged on. The 70's really knew how to relax and i appreciate that.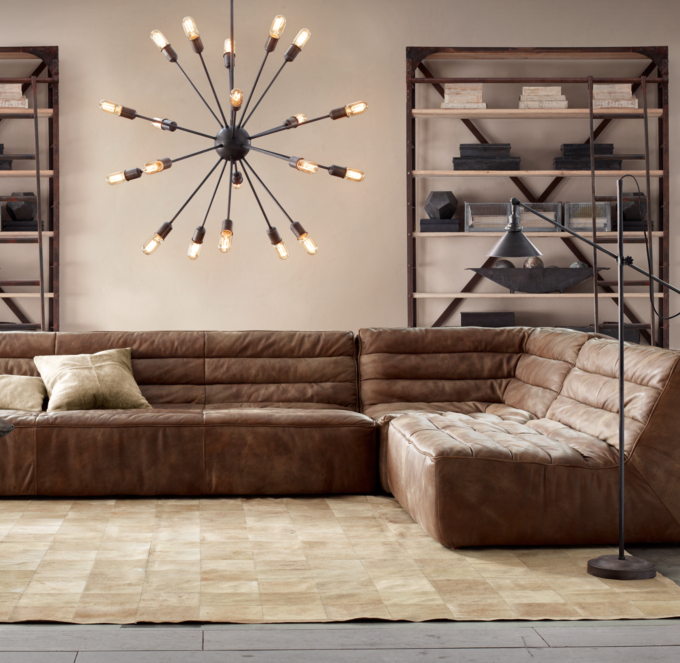 And Restoration sells a pretty good one HERE.
3. When in doubt, buy a chesterfield. I know what you are thinking: 'Uh, yeah you moron, if i could find a beautifully worn leather chesterfield that i could afford i would 'if i was in doubt' buy it', which is a fair thing to say. But if you are looking to save and splurge on any leather sofa, i'm just saying that my recommendation is to go for a chesterfield. They are so classic and timeless that you simply can't go wrong. Men love them. Women love them. Cats love them. And even baby cats love them.
Restoration Hardware kinda corners the market on vintage leather sofas. That's 'Vintage Leather' not vintage sofas, the construction is new but because the leather is old and worn they are just beautiful. I always prefer to buy vintage over big box, but i can't deny that they all look good. (This is so not a sponsored post, but i'm trying to give options to people who aren't shopaholics like me and have a million vintage resources and honestly Restoration has the best mass market options).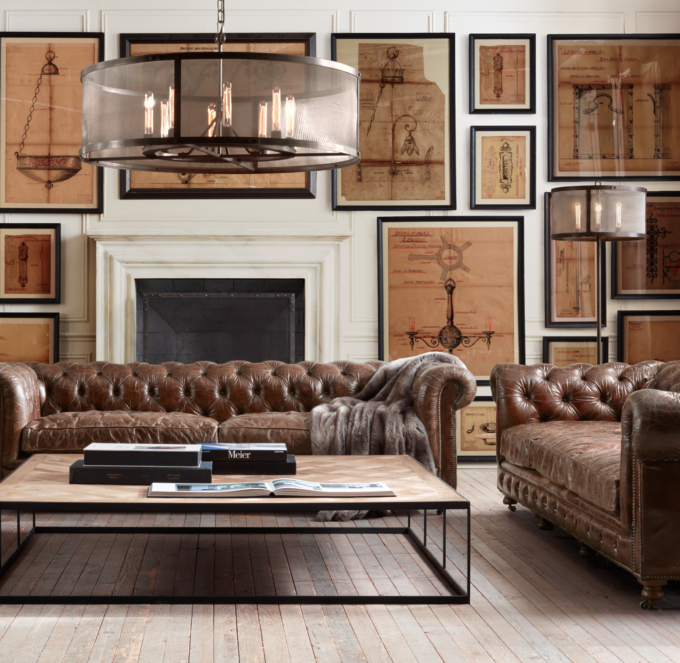 Good luck shopping. Every time i find one that i love i usually can't afford it and now i have these two amazing leather chairs so my leather quota is full:
More random tips:
– Be more cautious with burgandy leather – it can be styled right, but it can also look 90's southern den, so just make sure you have the right vision for it. Ask yourself – would i buy shoes this color and tone and level of shininess? And if the answer is 'nope' then don't go for it, hold out for the right one.
– You can dye a lighter leather to look darker but you can't realy change the tone of a medium or dark leather very much. I once bought an awesome vintage sofa that was slightly more purple than i wanted it to be but the price was insane ($600 with such a good shape) so I risked it. My leather guy (what? doesn't everyone have one?) said he could change it to a deep caramel and while the tone changed slightly it was certainly not worth the $900.
– Most big box stores have pretty good worn or vintage style leather options. I know that Room and Board, Crate and Barrel as well as 'The Sofa Company' have decent colors and finishes that i was impressed by so if going vintage isn't an option for you then there is still hope.
– They last forever, so while it it way more of an investment, leather is so durable that you kinda can't go wrong. UNLESS you have a cat that scratches it up because there is nothing you can really do about that.
– I prefer brown leather over black leather most of the time, but i also wear only brown leather an generally prefer it. This could be because i hav so many blues and greys in my house that i need the warmth of the brown, but with black there is a slight bigger risk of being cheezy and going 'bachelor' pad. Not the show, the generic space that men in their 20's live. Stay tuned for my '10 pieces that every bachelor needs in order to get laid' post. Coming soon to Buzzfeed.
SECRET SHOPPING SOURCES:
Ok. Maybe not totally a secret. But online i go to:
1st dibs – who am i kidding, i never shop on 1st dibs, but maybe you do because you are rich.
Empiric , sometimes has good vintage guys.
Sunbeam Vintage has an awesome black chesterfield for $950 (i can't tell in the pic if its leather or vinyl)
Anthropologie has a pretty great one. Like these:
One Kings Lane 'Tastemaker Sales' definitely have some sometimes. In fact, my sale in September with them boasts 1 beautiful dark leather loveseat, perfect patina, beautiful old nailheads, english style, 1930's……stay tuned for photos. It's a hard one to get sell, i want to hoard it forever.
To tease you a bit here are a bunch of beautiful leather sofas in beautifully shot spaces.