Men and women decorate differently. We just do. Excuse the generalizations that are going to happen in this post, i know that everyone is different. But after designing 22 rooms for 22 different couples I've come to realize that many of the differences between the sexes are actually the same. So here are some tips–based on my life experiences–that will help you compromise as a couple and decorate your home to be the happiest place you can be.
Let's start with a story:
Once upon a time, Brian and I designed a table together. The time was 2001, and with $300 in the bank and a 300 square-foot-studio in NYC/the East Village, we rescued this beauty, this saarinen table base from the basement of our 'wanna-be-the-musical-Rent' apartment building.
It was teeny, we were 22, life was awesome. But let's not overlook the fact THAT WE TURNED A SAARINEN TULIP TABLE BASE INTO A STOP SIGN TABLE!!!!!
What? More information you say? So here we go:
The base didn't have a top or obviously i would have used that. So the following weekend Brian and I went to the flea market and found a very large stop sign for $20. Then we had a piece of wood cut exactly the size of the table. He loved the stop sign, i loved the tulip base. Boom = design harmony. Please note that he has a flavor savor.
That table isn't exactly 'good' but it IS a conversation piece and that is what we wanted. It was quirky and totally one of a kind. Too bad i donated it years ago, because it would have been a great relic of our 20's in New York and we could have burdened our children with it.
It's hard for couples to decorate together for 1 million reasons. He wants comfortable, she wants beautiful. He wants inexpensive, she wants realistic if not luxury. Ultimately your space does need to reflect both of your tastes in order for both of you to be happy walking through that door at the end of a long day, so i'll tell you how through the example of me and Brian, Mr. and Mrs. Henderson.
Also note that these tips apply to any relationship, not just male and female – roomates, same sex, etc, but i'm just using Brian and I as the example.
1. PRIORITIZE AND LIST HOW YOU WANT IT TO FEEL: When Brian and I moved to LA and started with a clean slate here's what we did: I asked him what was most important to him, design-wise, and he said: 'Comfortable, inexpensive and funny'.
OK. i can handle that.
Mine are: 'Unique, exciting and personal'. We both like TV so that wasn't an issue for us but if it is for you, then truly think about how much you watch tv and how big a part of it is in your relaxing at night. If you don't too much, move it to a different room, but this battle is extremely hard to win if he truly enjoys watching tv to unwind. You don't want to shove him in the other room, just because you don't like that big black box messing up your decor.
List what is the most important to you and don't compromise within that, compromise outside of that.
2. START WITH A CONSISTENT COLOR PALETTE. Any two, three or 9 styles can work together if you have one consistent color palette. I can't stress that enough. We both love blues, grays, white, green and hot pink. Once you have a consistent color palette everything becomes so much easier. Just stick to that palette.
Bring in masculinity by having a dark color in your color palette, and it doesn't have to be black. Navy or charcoal has the same level of masculinity without the heaviness of black. And while blues and grays are colder tones i balance them with woods, warm leathers and brass. So make sure to have both cool tones and warm tones to keep it balanced.
3. PAINT YOUR WALLS A GENDER NEUTRAL COLOR IN THE MAIN LIVING AREAS:
We chose White Diamond by Benjamin Moore for the walls – its a very cold white that works really well with our dark blues. Anything can go with it and it allows you start with a blank canvas.
In our foyer (which i have yet to finish) i chose a neutral gray for the walls:
Half moon crest, by Benjamin Moore.
In my office i used 'Loyal Blue' by Sherwin Williams.
In your more 'temporary spaces', your offices, guest rooms, foyers, hallways, bathrooms you can go more bold – like this gender neutral navy blue – and this is where you also can do your crazy colors, like my guest room in hot pink and green (four leaf clover by Valspar)
4. BUY ONE PIECE OF LEATHER. He loves leather a lot and i could go for it if it is caramel leather and vintage or really worn. New, black and shiny was not going to work for me. It took me years to find these chairs. YEARS. So when i saw them in Salt Lake for $900 at a vintage store i knew they were our chairs:
When you have two fairly masculine pieces that are so prominent, it instantly infuses the room with A TON of masculinity which balances out all my feminine pieces. These chairs are the perfect balance of Brian and I – they are super low-maintenance because they are leather of course. They are extremely comfortable and large scale and obviously design-wise they kill it with their safari straps and rosewood.
Anthropologie sells new versions: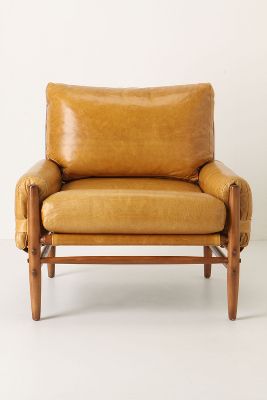 I'm not psyched that they are being knocked off, but at the same time i know that i have an original Brazilan piece that can't be copied, plus this piece (which truly is beautiful) is $2498. I got mine both for $900.
5. BUY VINTAGE. We both love vintage and it normally falls into his 'funny and inexpensive' categories and definitely falls into my 'unique and exciting' categories, so that's what we buy. If your partner doesn't think he/she likes vintage show him/her picture after picture until he realizes that vintage doesn't mean doilies, it means character and interest that is MUCH cheaper than new/big box pieces. If budget is your issue, which is it for most of us, then vintage normally solves that problem.
6. KEEP AT LEAST ONE FOUNDATIONAL PIECE SIMPLE. We have a couple simple foundational pieces that help all the craziness work together. While i'm a massive fan of this hot pink sofa that i used in this episode
It's a great sofa, but even if it were in grey it is still a bit too feminine to be a major piece in your room. I love it, i want it, but its not going to work as a compromise with a man in the house.
So instead i have this:
It still has style and in a unique shape, BUT its deep and comfortable and streamlined enough that it can handle a lot of crazy accessories around it.
7. GO FOR A FEMININE SHAPE IN A MASCULINE OR GENDER NEUTRAL FINISH. This is an extremely important rule.
This bird lamp, for instance is an example of feminine shape, feminine finish. Brian doesn't like this lamp, he doesn't make eye contact with it, he said it was one of the few things that he woul donate if he could.
I love it. But its feminine in every way. If it were navy blue porcelain or wood or even had a navy shade i think he would like it more, but otherwise to him it looks like a 'knick knack'. It sits behind the sofa, opposite the TV so Brian doesn't really care, but its a good example of not gender neutral.
Instead, go for a feminine shape in a gender neutral color, like my headboard. I mean, if this thing were in hot pink it would be amazing and i would be divorced. But Brian doesn't really notice the fact that it has 1 million tufts, that it has rouching and that it is overly feminine in shape and style. I've tricked him.
I'm revealing my bedroom soon, so this is all you get to see right now. Stay tuned.
8 SPLURGE ON CONVERSATION PIECES: Everybody loves when their friend says 'OMG, where'd you get that?', and men like to show off even more than women. One of these pieces can go a long way and will get everyone into the process.
For instance this chair isn't exactly practical but he likes it because it is 'funny':
He also strangely loves this dog because its' 'funny'.
And he's right. It is funny.
9. GO CRAZY WITH ACCESSORIES. As long as you have some simpler foundational pieces and a consistent color palette, bring in you individual personalities through artwork and accessories.
Porcelain legs, brass A, hot pink art…..
Floral pillows…..all over the place, but its fine because they are just accessories. These can be changed out all the time, this is where you go crazy feminine when you want to.
The question/comment/tweet that i get the most is, 'He doesn't want to spend any money on decor and instead wants lazyboys.' Men are more practical when it comes to decorative items, they just are. But practicality doesn't buy you family heirlooms, so this is my biggest piece of advice for men:
10. Don't splurge on big box pieces, splurge on heirloom pieces. If you are on a budget, don't have an expendable income and its hard to get him to spend $3000 on a sofa, then don't and instead spend $1200 reupholstering a sofa that will be one of a kinda. Whether its at a flea market, on a trip somewhere, find something that you both love, that is TRULY UNIQUE and feel good about paying a little more for it. These are the pieces that you'll love forever, that your children will be able to pass on to their children and say 'Grandma Cool and Grandpa Awesome bought this in the 2012, isn't it amazing?' to their friends. This could be art, designer pieces or custom made pieces. This is what you splurge on in life, not the sofa that you'll have for 10 years.
The more confidant you feel in your home the better life you'll have. You'll walk through the door every night happy that it looks like you, that it represents you, that its comfortable and inviting. You'll have more dinner parties, improving your social life and stregnthening your relationships. Your kids will have fonder and fonder memories of their childhood. It truly doesn't take a ton of money, just a consistent color palette and lots of trolling for the right vintage pieces that fit within your priorities. Tell your husband that. Have him read this post. It's important to love your home.
This post was in partnership with smartwater.
smartwater, simplicity is delicious. Click here to learn more.