So those of you who checked the One Kings Lane Tastemaker sale know that a lot sold out real fast. We were giddy watching it. Bonnie and i were staring at the computer, refreshing the screen every minute drinking champagne for the first hour, ridiculously happy to see all our hard work pay off.
So there is 18 hours left and here is what is left.
1. Newly reupholstered 1970's Italian Peacock blue velvet sofa. $3499 I love this sofa VERY much. I'm shocked that its still mine.
2. Newly reupholstered 1970's Italian Peacock blue club chair $2199
3. Burlwood coffee table $799 Good. i'll keep hoarding this, oh yes, i will.
4. Newly refinished teak (or walnut…i can't tell) low and huge mid-century coffee table
5. Mid-century chrome dome lamp Love this. it's expensive, i know, but this is simply how much they sell for online. I think i bought it for $200
6. Large antique blue seascape oil painting.
7. Vintage worn amazing leather settee $2499 So good, so worn, so much age to it. There are also 2 of these vintage Regency style dining tables, $1199
They are newly painted in a matte gray and would be perfect for a conference room, office or studio. Or of course by one for your dining table.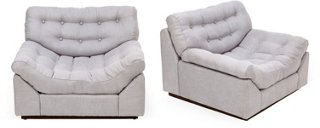 And i'm kinda happy that these 1970's newly reupholstered gray linen lounge chairs are still around. I just might hoard them til we move in a few years and put them in our tv room. Officially the most comfortable chairs on the planet. We are baffled that they are still available, just baffled. But Brian is extremely happy – he wants these chairs for his future man cave.
Click HERE for the sale, and do me a sale and tweet it out, tell your friends. I really want to sell out mainly to say that i sold out. I'm tempted to buy the stuff myself just so i can say it sold out. Except that would be like donating something to Goodwill and then buying it.
Which strangely, i've actually done. I'm emotionally stable like that.